About Us
Our organization, the Santiam Four Wheel Drive Association (SFWDA) is based out of Lebanon, Oregon and includes members from Lebanon and surrounding areas including Sweet Home, Albany, Eugene, Philomath, Salem, etc.... We became an established club in 1965. However, on February 3, 1969, we became an official non profit organization. Our club's stated purposes are the same today as they were in1969.
Our club is a branch of the Pacific Northwest Four Wheel Drive Association (PNW4WDA) and Region 6. This network of organizations work together in land management, four wheel drive events and outings, and fellowship with those of similar interests. We have been conducting our renowned event for more than 40 years now. Years ago, we set out to organize a place to participate in our sport of four wheeling. As many are aware, there are not many places open today where four wheelers can do what they love, whether that be an organized event or not. Therefore, we are honored to be a part of this organization. We strive to promote wholesome family entertainment.
We focus on four wheeling, family, community, donation, volunteering, and the great outdoors. Aside from our annual event, we have monthly club meetings, association functions, work parties, camp outs, four wheel drive runs, and volunteer activities in our area. We find great satisfaction in helping others and giving back. The proceeds of our event are donated to local organizations, causes, and charities. We feel that a successful event is one that gives back.
As an organization, we are pleased that others are interested in our association and want to be a part of it. However, we never accept applications for membership between January 1st and April 1st each year. Additional times throughout the year may also be established. When applications are being accepted, once attending club functions and becoming acquainted with our organization, prospective club members are able to obtain club by-laws and a membership application. Once the membership application has been submitted to us, the applicant's 1 year membership process begins. The first 9 months is considered the "observation" period where applicants are encouraged to attend as many association functions as possible. The last 3 months is considered the "attendance" period where the applicant is required to attend at least 3 association functions to be eligible for vote into our organization. If an applicant is voted into the association, they are required to pay a "joining" fee. If you are interested in becoming a member, feel free to contact us.
Many people attend and love our event without knowing anything about us, the group who hosts the event. Thank you for your interest.
Blast From The Past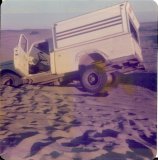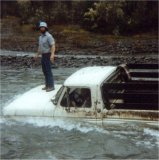 Since the creation of our organization in 1965, we have had many members who have done many four wheel drive events and outings.


Here is some memorabilia from the past. Enjoy!
Archives